Solange Lusiku hosted by IHECS
On 25 October Congolese journalist and editor of independent newspaper Le Souverain, Solange Lusiku, was invited by IHECS as part of its ASCEP Master 2 course.0
IHECS has a long history of working with Le Souverain. The first collaborative efforts date back to 2009 and participation in the City of Brussels' Solidarity Week during which IHECS held a conference and exhibition on Le Souverain's work (cartoons and photos). This initial interaction led to participation in an initial support project for this independent Sud-Kivu newspaper in 2010. Since this first project, IHECS has worked with Le Souverain on several cooperative or awareness-raising projects with the assistance of WBI or the City of Brussels.
Solange Lusiku
Solange Lusiku has won a number of awards including an honorary doctorate from UCL and the "Woman of Courage" prize bestowed by the EU embassy in the DRC.
Solange Lusiku was in Belgium in October at the invitation of UCL in order to take part in the IACCHOS (Institute for the Analysis of Change in Contemporary and Historical Societies) symposium. IHECS took the opportunity to invite her to an ASCEP Master's 2 workshop and also to boost its work with this media organisation fighting for the values of independence, openness to dialogue, and democratic education.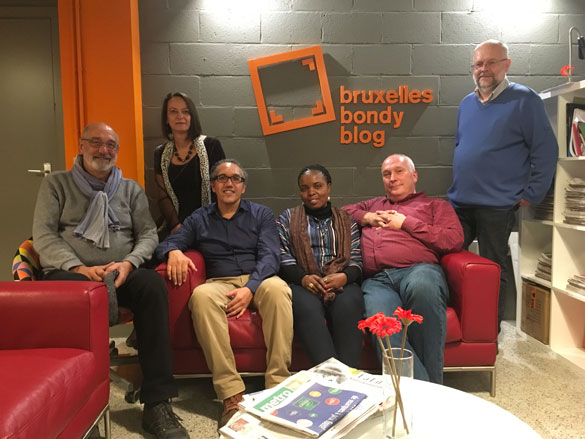 From left to right, Jacques Varasse, Sophie Henrard, Nordine Nabili, Solange Lusiku, Frédéric Moens et Luc De Meyer.
A work meeting bringing together management (Luc De Meyer and Frédéric Moens), Head of the Department of Journalism (Nordine Nabili), the international committee (Sophie Henrard), the project manager and lecturer, Charlotte Maisin and Jacques Varasse, partner of Solidarité Santé Sud. In conjunction with the latter, a call for projects was filed with WBI for a collaborative endeavour and structured support of the Souverain Journal. The 2012 "Women of the Shadows" photo exhibition set up by IHECS (with support from the City of Brussels) will also be carried on by this non-profit association.