Launch of the 2016-2017 academic year!
This year, Luc De Meyer, Director of IHECS welcome the Ihecsians by focussing his speech on the importance of the applied and active pedagogy that characterises our establishment.
As support he referred to Joseph Jacotot (1770-1840) paradoxical pedagogue  who,  on the basis of his experience, arrived at the conclusion that the best method for transferring knowledge was, for the teacher, to create conditions so that the person taught can exercise his intelligence himself in order to understand and to appropriate the knowledge thus acquired for himself. The role of the teacher, rather than   explaining,  then consists in elaborating and putting in place devices and situations that allow those taught  to  discover, by themselves, the solutions to problems posed and to thus acquire confidence in their own abilities.
IHECS tries to encourage its students to be autonomous learners through a range of devices put in place over the years, whether it be internships, projects and section workshops or thanks to devices recently set up such as the Bruxelles Bondy Blog and the IHECS Lab.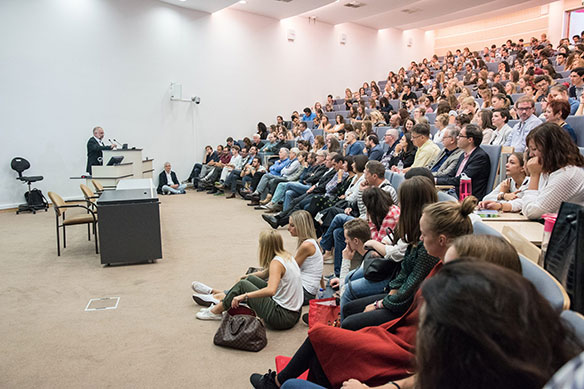 The director then pointed out that both as a Bachelor's student and as a Master's one, the notion of a year has disappeared to be  replaced by an à la carte programme. Now, students will have to choose different lessons and have their choices for the year validated.
After having pointed out that the major change in the Bachelor programme concerned the new unit " web, interactivity and transmedia ", the director also informed the audience about the new composition of the supervisory teams for the five Masters.
Finally, the co-diploma  is still happening:  IHECS issues two diplomas with UCL and one with ULB. But other prospects are in sight for next year. This year we are working on the co-diploma with ULB for Master in Advertising and a new Master with 120 credits in Event Management.
Welcome new IHECSIANS!
On 14 September, the management as well as the coordinators** of the different departments welcomed the new students in the "Arrival  at IHECS" session. 
Like every year, the aim of this is to present to the new students how IHECS works and to give them useful information for their course.
* The Management team is made up of Luc De Meyer, Director, Frédéric Moens, Director of Studies and Jean-François Raskin, General Administrator 
** The Coordinators of the departments of IHECS invited to be involved on Monday 14 September: Mathieu de Wasseige (Languages), Pascal Chabot (general lessons) Thierry Maroit (Media)