IHECS wraps up its coLAB project with the launch of a practical guide!
On 9 October, IHECS is organising the closing event for the coLAB European project at Tricoterie, where the various partners will present the "coLAB practical guide".
For those who have forgotten, coLAB is a collaboration between five European institutions of higher education. The project was conceived as a result of the recognition that many refugees arrive with substantial work experience and qualifications. Unfortunately, their achievements are generally not recognised by their host countries. Refugees have an unemployment rate above the national average and are often overqualified for the positions in which they are employed. coLAB has tried to alleviate this situation by hiring refugees as "guest experts" in order to share their knowledge with students and teachers. The project has thus helped to develop in students a sense of openness to different cultures and life paths. On the other hand, the hired experts have been able to develop their professional network and new skills and have been paid for their involvement.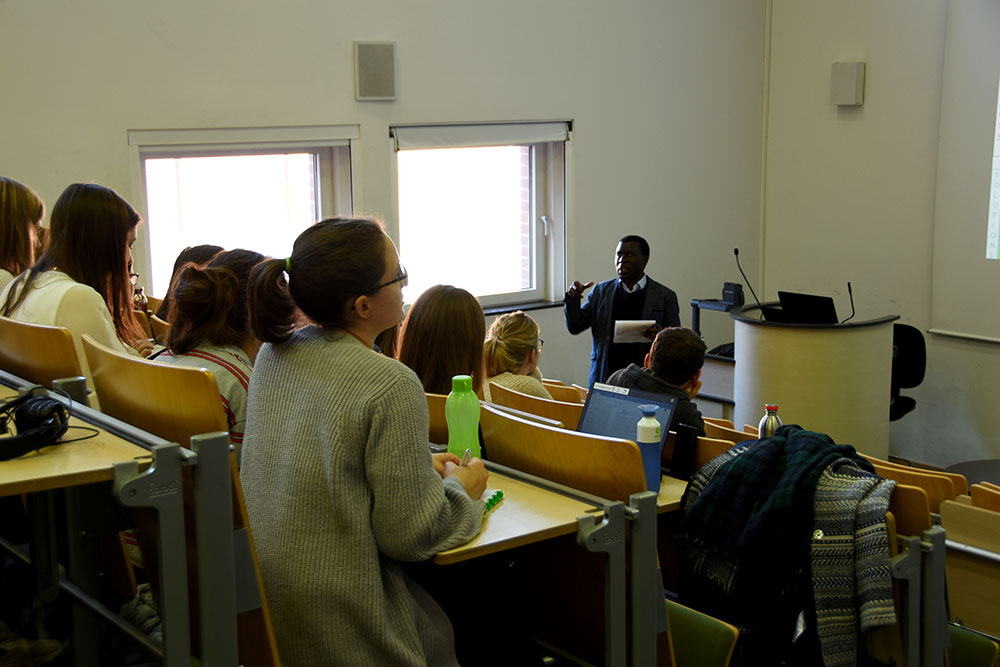 Involvement of Jean-Marie Mutore in the course "International structures" given by Emmanuel Wathelet as part of Master 1 ASCEP
A total of 28 refugees from 14 different countries participated in the project. They taught 20 different academic specialisations. The project helped to change the perception of teachers and students towards refugees. It also improved the sense of inclusion refugees have in their host countries. coLAB has generated a lot of enthusiasm in educational institutions and, more widely, in civil society.
After 18 months of work, IHECS and its partners are finally ready to unveil their practical guide, developed to share the knowledge imparted by the project team. This accessible and innovative tool promotes inclusive practices and provides useful advice for institutions of higher education to build on and develop similar projects.
Would you like to learn more about this "Toolkit"? 
Meeting:
9 October, 1430 to 1830
At Tricoterie - Rue Théodore Verhaegen 158, 1060 Brussels
Registration via Eventbrite
The coLAB project has been implemented under Democratic and Inclusive School Culture in Operation (DISCO), the joint programme of the European Union and the Council of Europe.