IHECS signs a new partnership with Morocco
The International University of Rabat (Université Internationale de Rabat (UIR)) and IHECS signed a partnership agreement on Wednesday.
The purpose of this framework agreement is to formalise the desire of both parties to establish a close and lasting collaboration, and to present concrete options for implementing this.
In addition to the exchange of students, teachers and educational tools between UIR and IHECS, it provides for the establishment of joint research activities as well as the joint organisation of conferences and seminars on a variety of subjects and disciplines. It also specifies that IHECS will support its new partner in the creation of new sectors and new programmes.
A first meeting was held in Rabat in December 2019, during which IHECS officials had the opportunity to learn about the development projects being underaken by the International University of Rabat in the fields of communication and journalism. In January, IHECS hosted a delegation from the university for a working seminar during which the major axes of the partnership were defined.
For Jean-François Raskin, IHECS General Manager, "this partnership complements a policy of rapprochement between different higher education institutions in Morocco and IHECS. UIR harbours lofty ambitions and wishes to associate itself with our institution, which has evidently elicited interest through its dynamism as well as the originality of its pedagogy."
In the coming weeks, the heads of UIR and IHECS will work to finalise the training programmes in journalism and communication, which should welcome the first students to the university campus from this September. 
The partnership also provides for an important component of collaborations in the fiel of continuing education.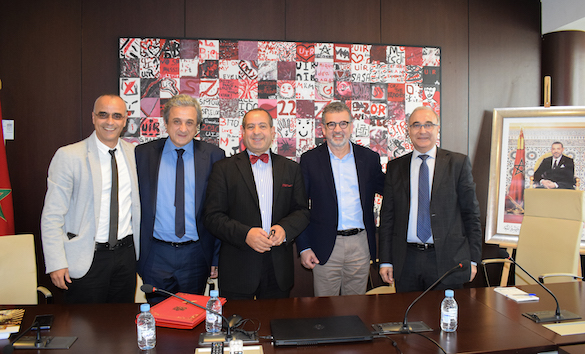 Left to right: M.Abdessamad El Fatmi, Dean of the School of Languages, Cultures and Civilisations, M. Mohamed Abdellaoui Andaloussi Maane,Executive Vice-President Exécutif of UIR, Ahmed Belhaloumi, IHECS project manager for countries of the Maghreb, M. Noureddine Mouaddib UIR President, M. Ahmed Ezbakhe, UIR Vice-President for academic affairs.