EAIE Liverpool 2016
Flash back to the biggest higher education conference in Europe.
Sophie Henrard, international activities coordinator at IHECS for the International Exchanges department, went to the 28th annual conference of the European Association for International Education held from 13 to 16 September
Visit to Edge Hill University
Before attending the conference, our representative made the most of the geographic closeness to one of our new partners, Edge Hill University, to visit it. On the occasion of "Partners' day and evening" organised by the institution, she was able to create useful contacts with other partner institutions. She also visited the campus and was pleased to find that the Media Faculty was particularly well equipped and had the latest technology.
The EAIE conference
This year the event hosted nearly 5000 participants including about twenty representatives of higher education in Fédération Wallonie Bruxelles on the WBCampus stand.
On our ambassador's programme:
About thirty individual appointments and participation in the different networking events, dinners, etc.
Meeting with the partners that IHECS already works with to solve any possible difficulties and maintain good contacts.
Continuation of some negotiations in progress including: Australian Catholic University, London College of Communication and  Pontificia Universidad Católica Argentina (Buenos Aires)
Contacting a number of potential partners in Canada, in the English-speaking part
Participation in the presentation of an IT mobility management tool: Mobility Online (a project by the Austrian company SOP). IHECS wishes to bring together the issues and reflection on this portal with representatives from other Hautes Ecoles and to organise a possible presentation in Brussels. (The majority of Flemish institutions already use it as well as some European partners).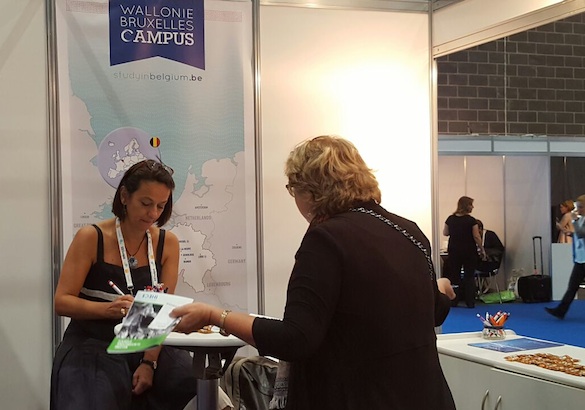 Amongst the unexpected meetings, Sophie Henrard made contact with the Universidad de Medellin, which seems to be a very nice opportunity.
The key moment of the closing ceremony
Sophie Henrard was particularly interested and touched by the presentation of the spokesperson for the United Nations High Commission for Refugees. The reflection presented insisted on the vital role that higher educational institutions can play in managing this crisis.