A busy start to the academic year for the International Office
September is always an intense period at the International Exchanges office. Between the departures of Ihecsians and the arrival of international students, IHECS was also visited by its partner universities.
The Ihecsians take the world by storm
This year, 176 students were selected for a mobility. From Mexico, to Japan via Canada, Flanders, Spain and Great Britain, they are heading to the four continents and are now starting to experience the Erasmus  adventure!
In 2016-2017 new destinations have been opened: Bilbao (Spain), Edge Hill (England), Groningen (the Netherlands), Lima (Peru), Tokyo (Japan) and Macao (China).
The students went to 34 countries:
3 students to Dutch-speaking Belgium (Belgica programme)
69 students outside Europe
104 students in Europe (Erasmus + programme)
Welcoming international students
Unfortunately, the attacks committed last March had an impact on the image of Belgium and the number of incoming students has fallen in relation to last year. Nonetheless, IHECS is doing everything to make the stay of the 37 students that have joined the school for the first semester unforgettable.
From 5 September they have already participated in the Integration Week during which they had classes (introduction to Belgium, to Europe and to media), visited some emblematic places (the Magritte museum, the parlementarium and RTBF) and tasted our belgitude (chips tasting and Petit Toone show). A nice start !
After the integration week, there was a week of intensive French in order to allow the students to "survive"  in  Belgium for the few months to come!  Some students are coming to IHECS for the entire course in English, created for them, therefore it is useful to give them some key points.
Amongst the 37 new arrivals, 17 will have classes in French given at IHECS and the other 20 will have classes in English. The international programme of English classes has been very successful and allows IHECS to welcome students with different background and from different countries who have not mastered French.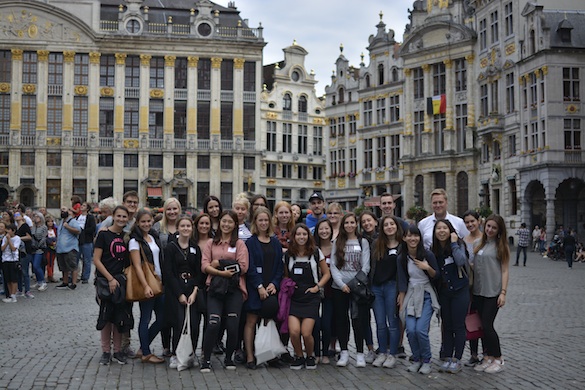 Photo credit: Anthony Gomand
Mexico and Japan visit IHECS
Before the start of the academic year, we hosted Stéphane Thijs from the Universidad Internacional (Cuernavaca, Mexico), andYusaku Oteki, from Aichi Shukutoku University (Nagoya, Japan), the representatives of these two partner universities.  This was the opportunity to discover the institution and to discuss practices, habits and the culture of the three countries.
The Universidad Internacional is a private university that has been hosting our students since 2013 in a magnificent setting where they learn and perfect Spanish.
As for Aichi Shukutoku University it is one of our new Asian partners. From autumn 2017, our students will be able to opt for this destination.
From left to right: Sophie Henrard, Mr Yusaku Oteki and Stéphanie Poelleman.