IHECS is doing everything it can to try to free Loup Bureau
IHECS is carefully following the situation of Loup Bureau, a freelance French journalist who is also a student at the Institut des Hautes Etudes des Communications sociales (IHECS) and who was detained on Tuesday by the Turkish authorities.
The school is in regular contact with Foreign Affairs and TV5 Monde, for whom the journalist – whose trip to the country was not part of his studies - was doing a report. The management also sent a letter to the President of the French Republic:
"Mr. President of the French Republic,
On 26 July, one of our journalism students, Mr Loup BUREAU, was arrested in Turkey and has been detained in Sirnak Prison since 1 August .
He is wrongly accused of passing intelligence to members of the People's Protection Units (YPG) during a report, carried out in 2013, on the living conditions of the populations in the border areas between Iraq and Turkey. The result of this work, broadcast on TV5 Monde in 2014, is also accessible on all broadcast platforms.
Loup BUREAU is a French national and a student resident in Brussels. Despite his status as a student, he is an accomplished journalist. His career has been impressive: He graduated from the IUT de Lannion and a was awarded a Masters degree in Cairo where he learned the Arabic language. He decided to perfect his round of his studies with a Master's in Journalism at our institute, the Institute of Higher Studies of Social Communications at Brussels (IHECS).
His studies must be sanctioned by a diploma in journalism which will be issued to him after a final test which is scheduled on the 4th of September, during which he will have to defend a theoretical thesis in front of a jury of professors.
Meanwhile, his passion for journalism has led him to visit and report on Egypt after the 2011 revolution,  to the Ukraine where he and his fellow filmmakers produced a well-documented report on the "Children of Maïdan" and witnessed the Russian annexation of the Crimea in 2014. He has also visited the Pakistani tribal areas, among other places.
He is a student who is extremely passionate about his job as a journalist. His attention to "people" rather than to simply political matters gives a singular human dimension to his work and is very endearing. His reporting focuses on countries at war in order to highlight the consequences that these conflicts can have on people's lives. He never showed any sympathy for terrorist groups and movements.
The duty of the journalist is to account for the reality of the world, without a priori and without bias. This is the task that Loup BUREAU has set himself and is in line with the principles outlined by his professors in journalism.
The IHECS community, its students, professors, parents and relatives, are eagerly awaiting his return, which we hope will come as soon as possible, and we maintain that his incarceration is unjustified and deeply cruel.
We are aware that Loup's situation is not unique. It is our duty, and we are sure that you share this feeling, to do everything possible so that Loup and the others receive the help and support of the authorities of our countries.
We would like to ask you for all the help and support of France to so that this coming September a jury of teachers will not have to meet in front of an empty chair because a passionate, honest and upright student has been wrongly detained in a prison more than 4,000 km away.
We are certain that you share our pain, anger and willingness to find a quick solution for the liberation of Loup, and we thank you in advance for your support and attention to this request.
Sincerely,
Jean-François RASKIN
General Administrator of IHECS"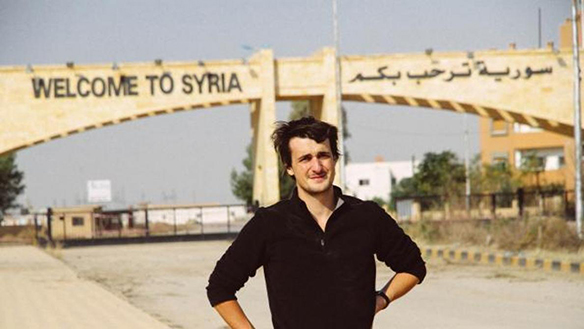 Reminder
Loup Bureau was arrested last week as he was about to leave the region at the border crossing between Iraq and Turkey at Habur.
The journalist traveled to that area during the summer to update a report made several years ago for TV5 Monde, about the YPG fighters, considered by Ankara to be an extension of the PKK. Faced with the impossibility of doing his job, he decided to leave the country, which he was about to do at the moment he was arrested according to Jean-François Raskin.
Loup Bureau is suspected by the Turkish authorities of terrorist activities in connection with the Kurdish fighters in Syria. That is why he was detained on Tuesday.
According to the administrator of IHECS, who is also part of the jury that will judge Loup Bureau's thesis in September, this is an "absurd" accusation saying: "He's not politically committed, he is interested in people."
Alongside his studies in Brussels, Loup Bureau has worked as a journalist for several years. Specializing in the Arab-Muslim world, he learned Arabic in Egypt.
Source : RTBF 
If you want to sign the petition, it's here !