Home straight for the coLAB project!
On 12th and 13th June, partners from the project coLAB gathered at IHECS for the very last time before the public presentation of the "coLAB Toolkit" in October 2019
During the 2018-2019 academic year, the London College of Communication, Clermont Auvergne University, LUMSA University and IHECS were able to welcome new experts to their academic teams. Speakers from Syria, Burundi, Afghanistan and Yemen facilitated workshops and taught courses in different institutions.
These professionnals arrived in Belgium, Italy, France or the UK, where they were granted refuge status, bringing professional experience and skills enhancing training undertaken by students from participating institutions.
The project was designed to harness this knowledge through academic activities, allowing for a mutual exchange between students, professors and refugee experts. In total, 23 experts have worked in a variety of field ranging from graphic design to political science or sociology. If the activities organised within the framework of the DISCO funding granted by the Council of Europe and the European Union come to an end, the institutions wish to continue developing this inclusive approach and benefit from the expertise of experts. 
On 12th and 13th June, the partners held a final meeting in Brussels before wrapping up the "coLAB" project.  These two days of meetings have enabled progress to be made with organising the project's closing event. The project participants will meet again in Brussels on 9th October to publicly present the "coLAB Toolkit", a guide containing advice and best practices for institutions of higher education that wish to replicate this project in their own right. On the following day, the Council of Europe and the European Union shall bring together the leaders of all the projects supported by DISCO 2018. 
If you are interested in the "coLAB Toolkit", please contact Hélène Pochet.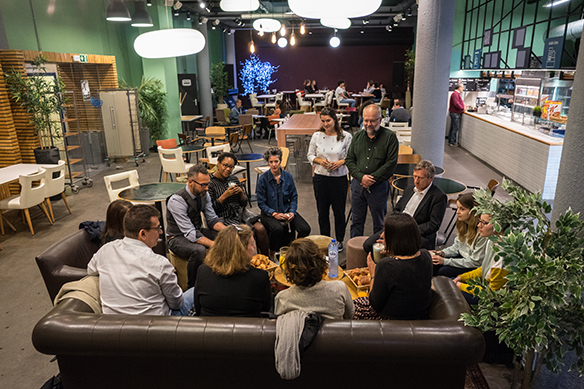 Welcome address by IHECS rector, Luc de Meyer
Reminder
The coLAB project, launched in April 2018, aims to integrate people with refugee status as teaching staff in various partner institutions, namely London College of Communication (UAL, London), Université Clermont Auvergne (Clermont-Ferrand), LUMSA (Rome) and, of course, IHECS.