Graduation Ceremonies: 2019 promotion
On 14, 16 and 23 November, IHECS organised three prestigious ceremonies in honour of its new graduates.
This year was a special year, since IHECS organised an inaugural ceremony for the very first graduates of the Masters in Event Management. It was held in the Gothic hall of the City Hall of Brussels.

The young alumni were welcomed by Ms. Delphine Houba, Councillor for Culture, Tourism and Major Events, who delivered a very engaging speech on the role that this new generation of event managers have in the fight against global warming. Patrick Vandoorne, President of the Masters programme, then addressed them and awarded them their degree.
Ms. Delphine Houba, Councillor for Culture, Tourism and Major Events
Two days later, the Masters graduates in Sociocultural Activities and Lifelong Learning and Public Relations were honoured. For the occasion, Luc De Meyer, Director of IHECS, delivered a speech underlining the importance of belonging to a community, that of the Alumni of IHECS to which the graduates now belong. He concluded his speech by wishing good luck to the now "former students of IHECS":
"We expect you to be able to build your lives as independent people, and to be able to integrate into the professional world! At IHECS, we have tried to give you all the tools necessary to enter the real world. We have assisted you on multiple exercises dealing with real life situations, but you were still being supported. Now it's up to you. We ask you to swim without armbands, but we are confident that you are able to take the plunge!"

The students then received their degrees from their respective presidents, Mélanie Lalieu and Elise Maas.

Last Saturday, the final ceremony honoured graduates of the Masters in Media Literacy, Journalism and Advertising. The event opened with a congratulatory address from Frédéric Moens, IHECS Director of Studies, followed by Patrick Verniers, President of the Masters in Media Literacy.  Nordine Nabili, President of the Masters in Journalism, also addressed the assembly and its students with a humourous speech in which he shared a few funny anecdotes which went down well with the audience.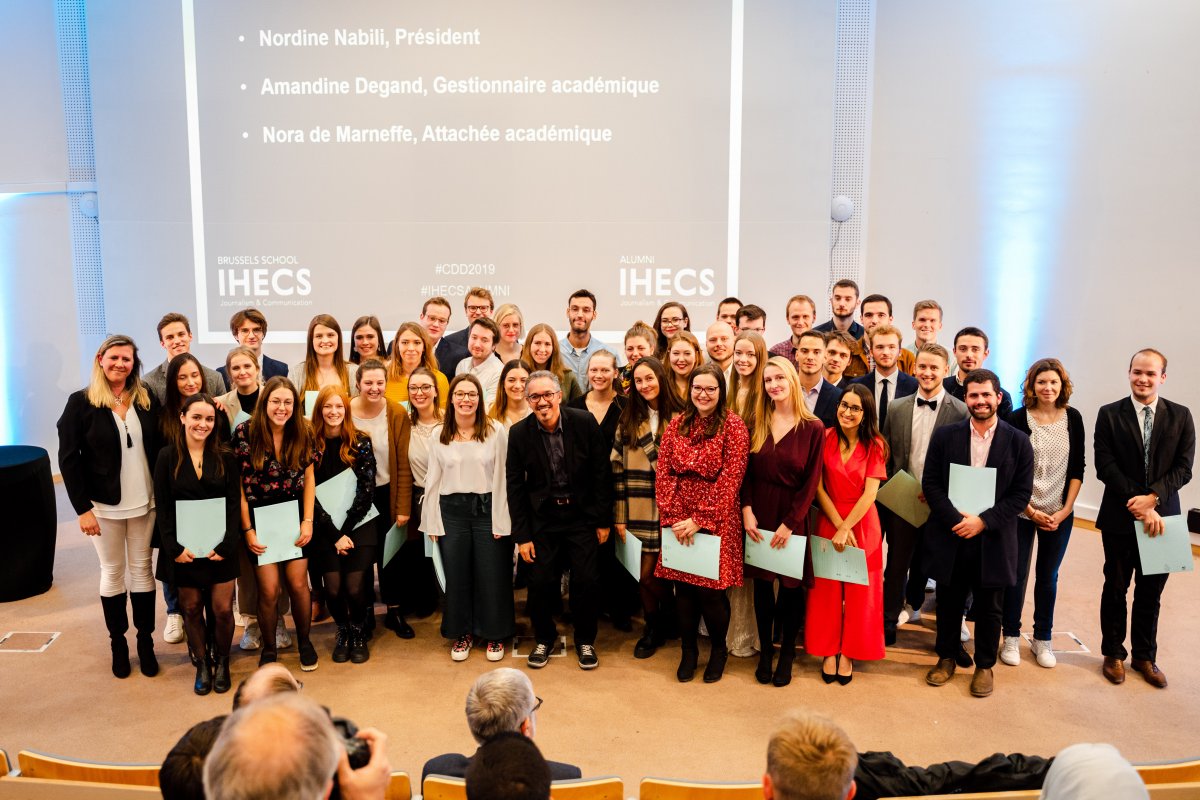 Journalism Promotion 2019 
And finally, those in charge of the Masters in Advertising and Business Communication, Didier Ackermans, President of the Masters and President of Alumni, and Sophie Pochet, academic administrator, awarded the students their degrees.
Find all the photos on Facebook