The Executive Master of Corporate Communication Graduation
Following the collaboration between HEEC (Morocco) and IHECS Academy, Jean-François Raskin and John Van Tiggelen went to Marrakesh on October 7th to present the first diplomas to 21 graduates of the Executive Master in Corporate Communication programme.
The first graduation ceremony for the Executive Master of Corporate Communication  took place this Friday, 7 October 2016 in Marrakesh. For the occasion, the IHECS Academy representative Administrator, Jean François Raskin and the Director-President of the Haute Ecole Galilée John Van Tiggelen went all the way to Marrakesh to attend the ceremony and to join the President of the HEEC, Professor Moulay Ahmed Lamrani, and the representatives of the corporate federations in the Marrakesh-Safi region.
It was an occasion of  unforgettable   memories: the big smiles on the graduates' faces, the pride in the eyes of their friends and families, the warm handshakes of professors.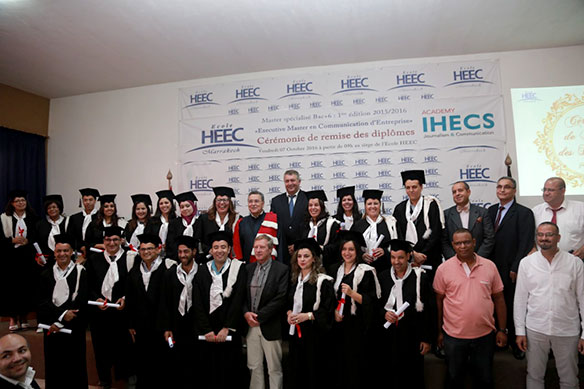 This graduation was also an opportunity for two partners to assess  their collaboration for the first time, introduce a few changes to the programme and open applications for the 2016-2017 academic year.
Reminder...
The Executive Master of Corporate Communication is the result of a partnership between the HEEC and the IHECS Academy. The programme started in Winter 2015 in Marrakesh and prepares students for communication roles in corporations and agencies.
The objective is to train future graduates to be well-versed in management and communication techniques so that they can assimilate into professional environments with skill and confidence.