Back to school for international students
This year no less than 57 students from all over the world have selected IHECS for their exchange programme. The international department took great pride in welcoming them in style with a variety of activities.
Whether they hailed from Mexico, Korea, Moldova, or the United Kingdom, the 57 new international students were pampered just before classes resumed for the new school year.
From 4 through 8 September 51 of them were able to participate in "integration week" during which they attended classes on Belgian culture and media. They also had the chance to visit a few iconic Belgian sites such as the Magritte Museum, the RTBF, and Parliament. Finally, they had the special opportunity to sample a few quintessentially Belgian flavours like our delectable fries and our fantastic beers.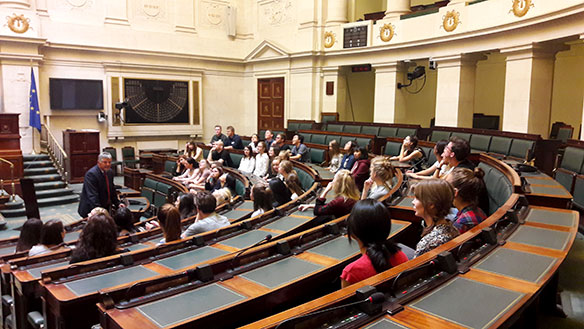 Over lunch before the official start of the school year, the international students were able to meet and talk with certain faculty members and the IHECS Student Circle in order to complete their course selections.
We wish them an excellent stay at IHECS and in the European capital.